Thanks for stumbling onto my site and clicking on my bio…  I'm surprised you'd even click on this page cause my story really isn't that exciting.  However, if you found your way onto my page, saw my picture, and said "hey I know that guy from somewhere" or "why does this geek look so familiar?", the answer you're looking for is probably somewhere below.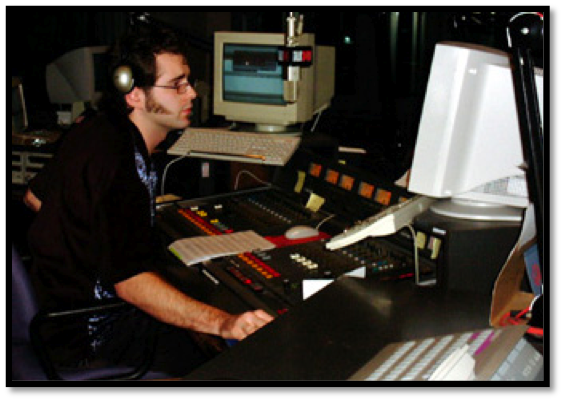 I'm a Canadian born radio and television, producer, host and writer. I attended the Radio and Television Arts program at Ryerson University, and got my start into the media industry while still in school by volunteering in the world of radio for a wrestling & mixed martial arts program called The LAW: Live Audio Wrestling which was broadcasting on The FAN 590.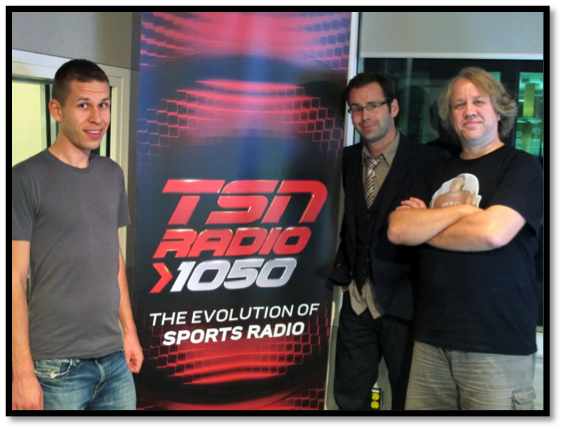 Within a couple months of volunteering with The LAW, I managed to get a job as a technical operator at The FAN. I was there for about a year and then moved along with The LAW to a few other stops in the Toronto radio market, including MojoRadio AM640, Newstalk 1010 CFRB, The Score on Sirius Satellite Radio, and our current home on TSN Radio 1050AM. Yup, after starting as an intern in 1999, I'm now hosting The LAW every Sunday night.
After graduating from Ryerson, and while still working in radio, I also landed a gig as the host of Global Television's BANG TV; a guy-geared weekly look at the world of music and extreme sports…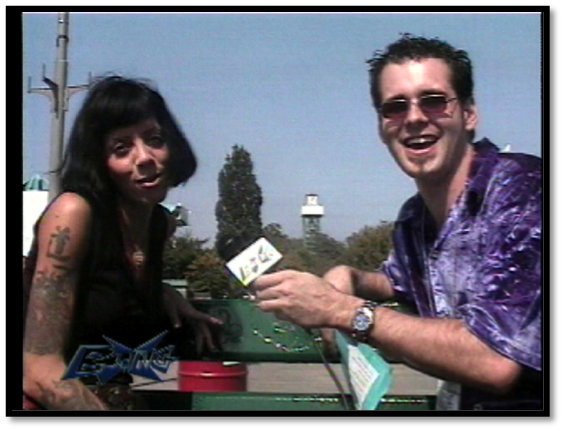 I focused on the "music" portion of that duo while my co-host took care of any physical activity involved in the show.  It was a pretty cool first gig as I got to interview such stars as The Mighty Might Bosstones, Our Lady Peace, Jimmy Eat World and my worst interview of all time Avril Lavigne.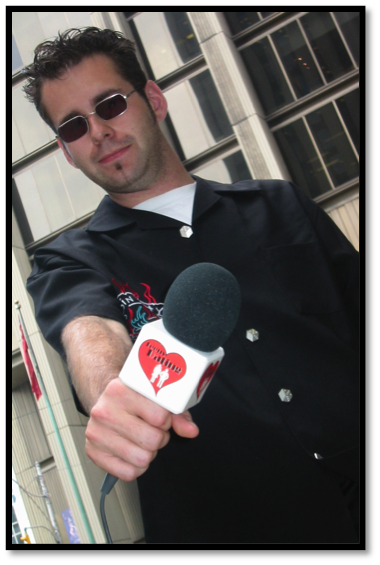 I completed hosting (and also producing) 26 episodes of Bang TV in it's first season, and while continuing to shoot and produce season 2 of BANG, I was also given the responsibility of producing and hosting a reality TV series called Teens Dating. The show can be described as "Blind Date for teens" but personally I saw it as "train-wreck television" every week I'd follow along two different couples on their dates, but the difference between myself and Roger Lodge was that all the participants on my show we're between the ages of 14 – 19 … talk about AWKWARD!!!
After leaving both Teens Dating and Bang TV, I moved behind the camera as a producer on CanWest Global's documentary series "Summit of Life".  This was a pretty cool experience since I got to profile extraordinary individuals such as musician Jeff Healy, NBA star Jerome Williams, and ofcourse my favourite episode documenting the stroke recovery of professional wrestler Bret "The Hitman" Hart.
My work behind the camera continued as I took what would be the WORST job I've had in my media career as the producer of SPEED Channel's reality TV show Tuner Transformation.  I don't know anything about cars, and rather than help people supe them up, I'm definitely better suited to go to car conventions and make fun of the gear heads and promo models attending them… but more on that later.
It was in the spring of 2005 that I found my way back onto TV and into the best job I've ever had as the head producer and first ever host of BITE Television.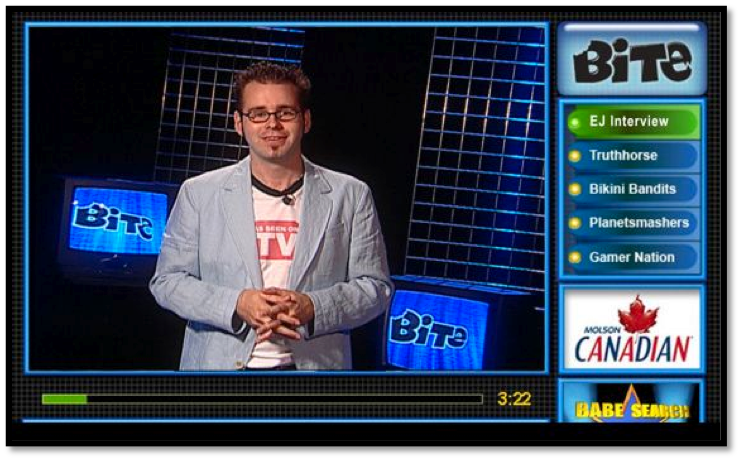 BITE launched in May of 2005 evolving from a short form programming channel into what was described as Canada's version of SPIKE TV, using the slogan of "Where A.D.D is A-OK!"  I got the opportunity to work on and craft an entire network that aimed at guys like me… it was an awesome gig!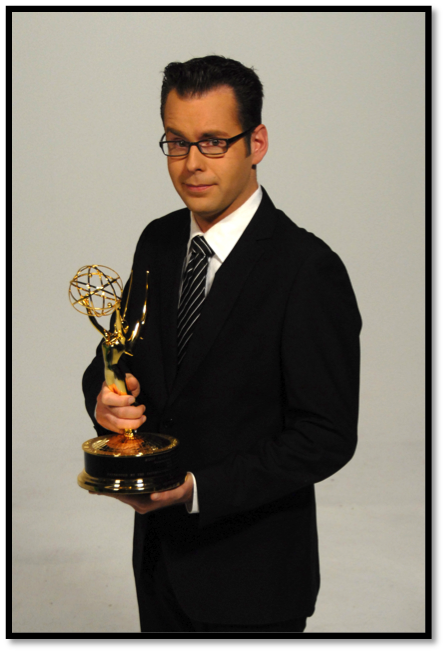 I had a great boss, and incredible co-workers at BITE and got the chance to run all the in-house programming for a "cheap and cheerful" TV channel.  It was like SCTV or UHF… but it was real, and I was in charge.  We didn't have big budgets, but I quickly learned that sometimes that's the type of thing that makes you more creative.  For 7-years I was the "BITE TV guy", both on and off camera… and I think it went pretty well, oh and so did the Emmy people when the channel caught some attention in 2007 winning an Emmy for Outstanding Interactive Channel!
However, the highlight of all my years at BITE started in the fall of 2005, when I met a student by the name of Matt Chin.   I found Matt's online show and offered to put it on BITE TV because I thought it had a very cool "Tom Green" style charm to it.  From there Matt came aboard as the first ever intern we had at BITE TV.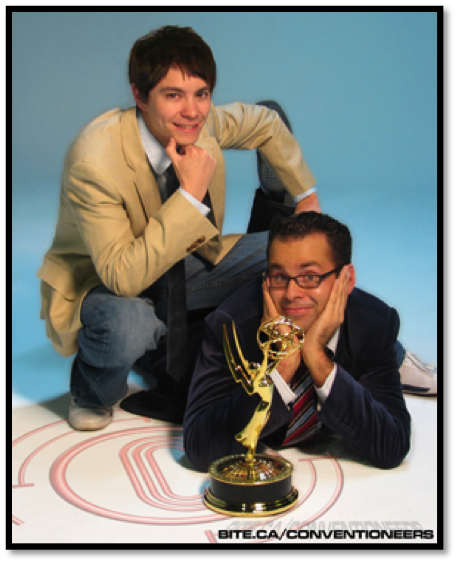 Then there was that one fateful day in November of 2005, when we bumped into each other while both covering The Everything to Do With Sex Show.  We decided to host one segment on camera together and ended up tearing into the Bite TV female co-host at the time and after reviewing the tape I realized the two of us had something.  Thus in January of 2006, The Conventioneers were born.
The Conventioneers was BITE TV's first ever, original, half-hour series.  Matt and I attended conventions, trade shows, and festivals, and had fun with people… so much fun in fact that we managed to get banned from about 25 conventions.  The show debuted in January of 2006, and we produced over 100 episodes and also got the chance to travel all across North America to some very very bizarre conventions.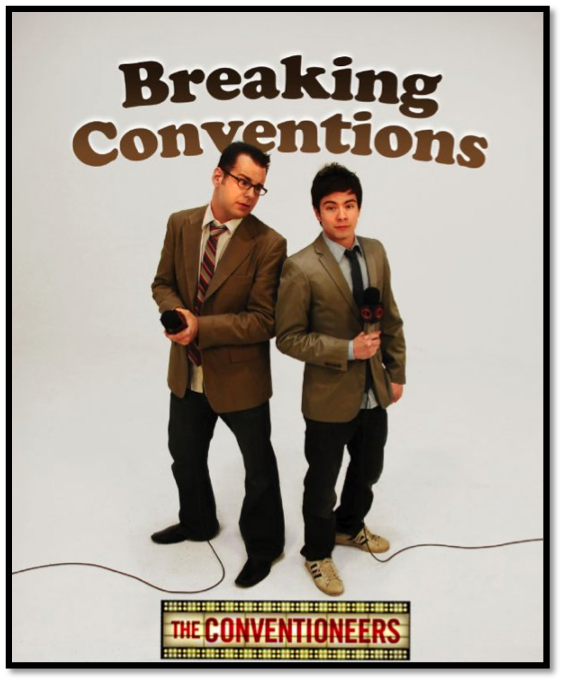 During my time at BITE TV, I also managed to find my way back to my previous broadcast home at Global Televison and but this time somehow found myself in the world of Canadian Game-shows as the host of Brain Battle! 
Brain Battle was a one hour long, LIVE, daily game show that aired nationally across Canada from 11am – Noon, 5 days a week!  The show prompted callers to "call in to win" money and prizes.
Although initially slated for a 3 month run, the show ran for 18 months straight and we did it LIVE 5-days a week … thus I managed to do over 350 LIVE hours of game show geared television.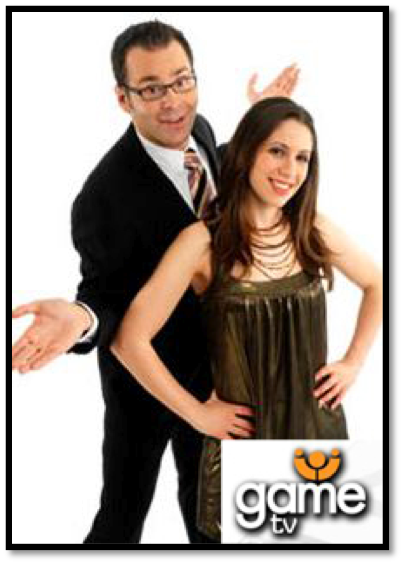 From the moderate success of Brain Battle, I found a niche as Canada's Game Show Guru and also hosted several other game show properties such as PopQ on E! Network, Think You Know $oaps and Time Shift Trivia on Global, as well as a stint on Game TV as the host of Bingo Night in Canada.
The game shows died down at the end of 2009, but in the fall of 2010, I got a phone call from a casting director looking for a couple hosts for a teen geared reality/adventure show for YTV!  After a long audition process, the casting choice was made for myself and my long-time comedy partner Matt Chin to be the ones given the opportunity to make fun of children running across an obstacle course as the hosts of SPLATALOT!  The show was then picked up in the USA and also ran on Nickelodeon!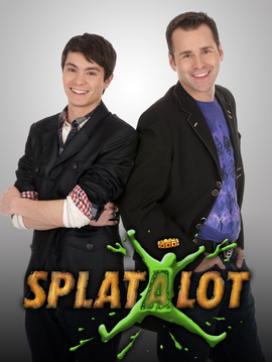 You can currently still see me on the never-ending reruns of Splatalot on YTV and ABC Spark, and hear me on a weekly basis as I still host that little wrestling radio show every Sunday night at 11pm ET on TSN Radio… but you can also hear me on Sunday mornings as I keep my "Game Show Guru" gimmick alive as the host of Sunday Morning Trivia on Newstalk1010.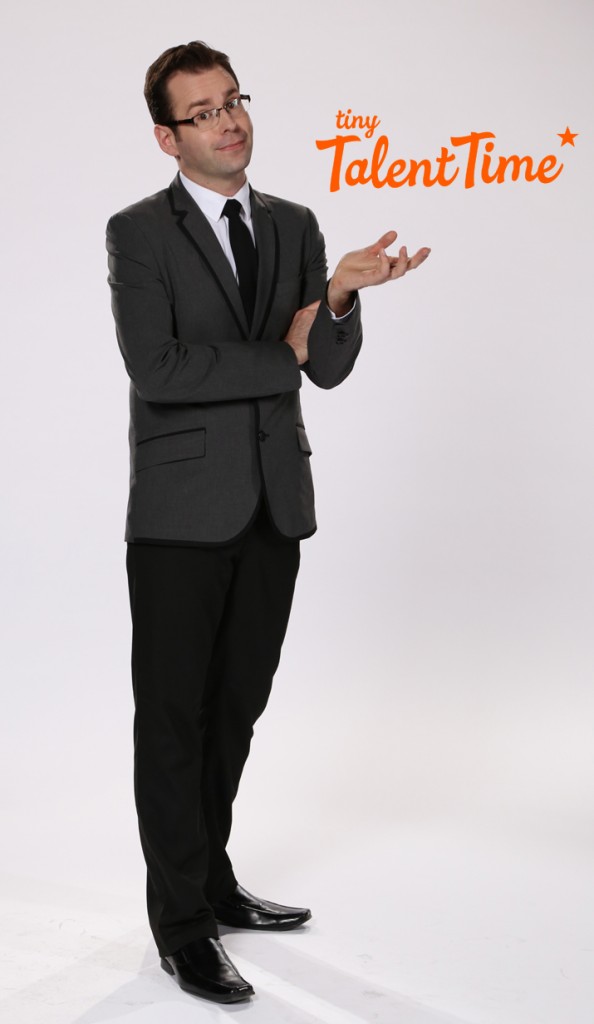 As of the fall of 2013, I set off on a new hosting adventure that is actually very old… I will have the pleasure of hosting the reboot of the iconic Canadian TV series Tiny Talent Time on CHCH.  So as one of my childhood heroes, Billy Red Lyons always said on that very same channel… a phrase that has become my signature in honour of him… "Don'tcha Dare Miss It!"
Jason Agnew